Triúr
The new cd "Omós" will be launched at the end of November.
20 new tunes on 14 tracks recorded i February of 2013.
Triúr is what Caoimhín O Raghallaigh, Martin Hayes and myself call ourselves when out together.We started this project in the beginning of 2008. To date we have recorded 2 Cds of music.
Triúr sa Draighean
and   Triúr Arís
Each cd cover below will lead you (if you click it)  to it's own page with its sleeve notes, reviews, track listings etc. and the notes for the tunes themselves
The tunes may be downloaded in notation format by clicking on its
title in the tune names here
Our playing or
performance diary
is
here
A documentary film on the coming together of this project and shot over four years was shown on RTE on the 20th March 2012 and is currently making it's way through various film festivals. It will be available in DVD format in due course.
72
       is a short taste of the wonderful film by Dónal  Ceilleachair.
"Triúr sa Draighean"
was our first cd 19 new tunes on 16 tracks.
Reviews and sleeve notes etc are
here
But we have been working since and our new cd is called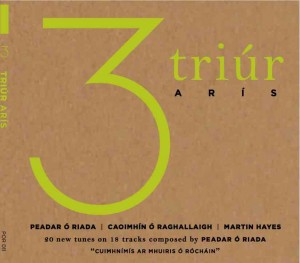 It has 20 new tunes on 18 tracks.
We are currently working on our third cd which we will record in February of 2013 and release later in the year.
If interested in booking the band - Amy Garvey or Billy O hÉalaithe are the people to talk to.

    click this logo to contact them