Triúr
The recordings:
  Triúr sa Draighean 2010. This first recording was published after a week's recording in November 2009 leading onto their first public performance on Sunday the 6th of December at Éigse Dhiarmuidín.  The resulting CD contained 19 new tunes spread over 16 tracks.  Recorded simply in An Draighean (Peadar's Home) with a minimum of technical interface, the album proved to be a success wielding not a little influence in recording trends since.  The emphases was on the music rather then technical standards but it would be foolish to ignore the caliber and talent of the musicians involved which made this method of work possible.  There was very little editing or interference with the recordings. What was played on the day was what was eventually served up to the public.  This pattern has been followed since and has meant that Triur's ideal performance has been with just a stereo pair of microphones in front of them to which they decide and adjust their playing levels, timbre etc during the live performance.  Instrumentation was fiddles, viola, hardanger, Whistles, Tambura, voice, concertina and accordion.
Reviews and sleeve notes etc are here
Our second cd is Called

"Triúr Arís"

or Triur Again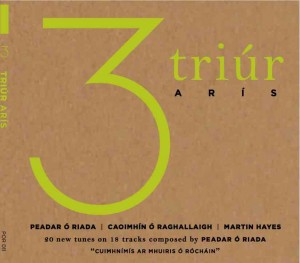 Triúr Arís
 was album no.2 and presented 20 new tunes on 18 tracks.  The palette of colour was widened with the introduction of the harpsichord as well as a bespoke Viola d'amoure.  This recording followed the pattern set in the first offering but expanded in a more exploratory use of sound combinations from the instruments. As always, very little technical interference was involved.
"Omós"
Our latest album is Omós
20 new tunes on 14 tracks.
  is a short taste of the wonderful film by Dónal  Ceilleachair.

If interested in booking the band -