Cuire chun Ceoil 7/2/2014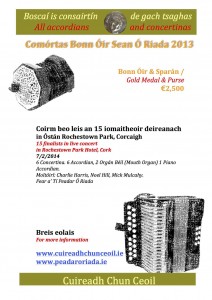 Tallyho- an craobh Dé hAoine. The Final - this Friday-live. There should be a good night afterwards as well.  Tickets €10 at the door or online from site.
Cláracha 4 seachtaine ansa thíos agus craoladh beo. 4 weeks prgs and live broadcasting here
Prog. available  online RnaG here.
RnaG/RTE eolas agus archives faoin gclár/info and archives re prog.