Maragaí na Nodhlag
On lá inniu go/from today until  7/1/2014 - here are some bargain bundles from our Siopa or shop.
Triúr don Nodhlaig
All three Triur cds for €40
Sean-Nós an beart mór – the big bundle  €75:00
Could not load product information
Saothar nua 2013 – New releases 2013
3 cd  €40:00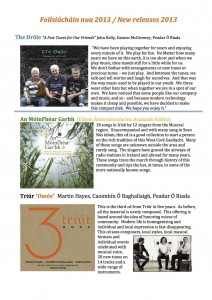 Maragadh ón dara úrlar.  A bargain from the second floor shop.
 We have a growing list of artists making their cds available through our "Siopa Dara Urlar" or "Second Floor Shop".
We started this section of the shop as there are many artists who are very busy or are not constantly on internet and find it therefor easier to make their stuff available here.   Any music artist can avail of this service.  They should email us if they would like to do so.
In the meantime:
Any three cds from the "Siopa Dara Urlar"  €40:00
The offer should click in if you order any three titles from this section into your basket.
http://www.peadaroriada.ie/siopa-shop-2/
Seán  O Riada Bundle
including DVD's and cd's
Aon trí teideal ar €50:00
Any three titles in the shop for €50:00