Laoise Kelly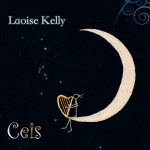 Laoise first learned her music at home in Westport, Co.Mayo. Her parents listened to an eclectic mix from Scott Joplin, The Beatles, Nana
Mouskouri, Johnny Cash, Louis Armstrong, De Dannan to lots of classical music! Laoise's father taught her and her siblings how play piano
and to read music. She did a year of tin whistle with piper Rory Sommers and went on to learn for years from the wonderful John Hoban 
while also doing piano with Maria Lynn and then Anne Kilkelly. The harp arrived when she was 12 and Ann-Marie Scanlon was her first
teacher. Then Kim Fleming from Roscommon taught Laoise tunes for the Fleadh while also doing RIAM classical exams. Kim was great at
accompanying other musicians on harp which was rare at the time! Sr.Karol O'Connell steered Laoise into a life of music with her enthusiasm,
sharp Cork wit and piano playing expertese.
Laoise won several All-Ireland titles and Harp competitions including the Keadue Carolan and Granard Harp Festivals. In 1992 she won
the Belfast Bicentennial Harp Festival competition, which commemorated the great Harp Festival of 1792 and was awarded the Waterford
Crystal Harp by Welsh triple harper Robin Huw Bowen and Derek Bell of The Chieftains, who said "her triplets were made in heaven".
Laoise was a founder member of the traditional group 'Bumblebees' with whom she recorded two albums and toured extensively. In 1999
she recorded her first solo album 'Just Harp' to critical acclaim "Kelly virtually reinvents the instrument with her rhythmic and melodic intricacy,
her syncopation and undulating chords and harmonies … she'll have you swaying with her profound musicality" Irish Times. in 2010 Laoise
released two new recordings; 'Ceis' a solo harp collection and 'The Wishing Well' a dynamic pairing with county Clare fiddler Michelle O'Brien.
Throughout her solo career Laoise has recorded on over 50 albums with many of Ireland's foremost artists including The Chieftains, Sharon
Shannon, John Hoban, Dónal Lunny, Tríona Ní Dhomhnaill, Tommy Makem, Matt Molloy, Mary Black, Kathleen MacInnes as well as Kate Bush
and American country/bluegrass icon Tim O'Brien.
She has toured and performed in all corners of the globe from Africa, Japan and Russia to New Zealand, Australia, Argentina, the US and Canada.
Career highlights include representing Ireland at the World Harp Festival in Paraguay, 2009; performing at the Féile na Laoch Seán Ó Riada
 anniversary festival in 2011; performing with poets Seamas Heaney and Paul Muldoon on the Hill of Tara, 2010; participating in a Dónal Lunny
led collaboration with the Maori's of New Zealand; performing the Famine Suite with the Melbourne Symphony Orchestra; representing Ireland
on a 'Harp and Soul' UK Tour with harpists from China, Brittany, Scotland and Wales and representing the Celtic Countries at an International
Women's Day festival in Moscow.
Laoise has also performed for President Mary Robinson; for President Mary McAleese and HRH Prince Andrew at the 2001 commemoration of the
Battle of Kinsale; for the 25 Heads of State of the EU in Dublin 2004; at Newgrange at the last Winter Solstice of the Millennium and more recently
at the renowned Celtic Colours Festival in Cape Breton, Celtic Connections in Glasgow and the International Harp Fesival Edinburgh.
She has been featured on numerous TV programmes including Eurovision, A River of Sound, The Late Late Show, Sult, High Reel, Sin É É,
Songbirds, Thomas Moore, Eimear Quinn's Christmas Celebration, Open House, The Raw Bar, The Arts show,  TG4's; Geantraí, Sibín,
Ceol Cois Locha, Sruth na Maoile, Ardán, Cainúintí Ceoil, Imeall geal, BBC's; Harp & Soul tour documentary, Colmcille Session, An Stuf Ceart,
and she was the featured artist on RTÉ radio's Celtic Connection and The Full Set with Kathleen MacInnes.
"An exuberant and innovative talent which catches the spirit of the modern Irish music movement in a way that few harpers
have done to date" Irish Music Magazine
"Laoise Kelly is a young harpist with the disposition of an iconoclast and the talent and technique of a virtuoso." Irish Times